I'm always on the lookout for new and different ideas for tradeshow giveaways and client gifts.  Here's a few that caught my eye at a recent trade show geared to sellers of promotional products (also known as ad specialties).  For variety, they include tech, kitchen and pet based ideas.
Tech Promotional Gift Ideas
OK, no surprise, these get a lot of my attention because many of our clients are techy and/or sell to techies.  Plus I'm a geek myself from way back when.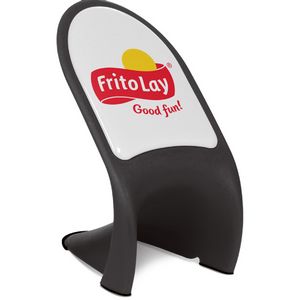 The Griptyte Stand holds up any smartphone or mp3 player, without magnets, at a great angle for reading or glancing at on your desk, and has a nice sized message area.
The idea is not new, but many existing products are cheesy, in my opinion.   This stand works great on my desk.  I predict these will be kept and used.
Headphones, speakers and docks.
Also not a new category.
But I like that everything is getting more compact, less pricey, and frankly easier to carry around or use.
Actually I saw some styluses at the show, but our favorite is the one we just did for a longtime manufacturing client of ours. So I'm showing it.
Dual function design means you get a "capacitive" side that works with all touch screens including phones and tablets, and on the other end, a traditional stylus for PDAs or for IRL keyboards.
Tablet holders with built-in keyboards
This one grabbed my eye even though it would be more likely to be a raffle prize than a giveaway at a tradeshow, based on its price.
It  would also make an awesome gift for a client, important prospect or sales person.  They're never going to throw it out.  Unless someone else already gave them one already.
Office Products
Nowhere near as sexy as tech.   I thought these huge highlighters were a fun idea any way.
If you have prospects or clientele that need 'em and don't want to lose 'em, these 8 inch-long highlighters will definitely stand out, be used, and keep your message front and center.
Kitchen Products for Promos?  (Really? Yes, really.)

In talking to one of our long-time vendors – they sell the best pizza cutter in existence – we got reminded that people have been hunkering down in their kitchens lately and do a lot more home cooking.
The World's Best Pizza Cutter
Gifts for the kitchen don't have to cost a lot, and there's a pretty good chance they'll be kept and used where they'll be seen often.
I'm showing the latest incarnation of the greatest pizza cutter in the world, but we also sell a lot of corkscrews, wine bottle caps and … You get the idea.
Pet Products – Another "Sticky" Category
Pet products is a fairly new category of product for the promotional market.
Paw-shaped Pet Food Scoop with Clip
We all know how much people spend on their pets these days. With that in mind – how likely are they to toss out a gift that could make Fido or Fifi's life more comfortable or less time-consuming for themselves?
Pictured here:  paw shaped pet food scoop with 1 cup capacity that also tightly seals pet food bags with a clip.
Interested in more ideas?
Search for More Tradeshow Giveaway Ideas
We have two search options for you:
Example categories: Tech, Trade Show, Green and Holiday Products.
.
You're always welcome to give us a call and we'll help you develop or track down a great idea.  Tell us your target audience, your industry and your theme or message, plus a budget and a quantity.
~
Related topics: